COMPANY
Sensitron srl is an
ISO 9001:2015-certified company
The ISO 9000 standards indicate how a company should operate to supply a quality product or service that meets customer requirements.
ISO 9001 certification is voluntary and is a world-recognized method of qualifying corporate organizations.
It certifies that the company adopts a system of rules, responsibilities, checks and procedures that comply with the ISO 9000 standards.
Attention to customer requirements and the desire to continuously improve its services has enabled Sensitron to obtain ISO 9001:2015 certification for its quality management system, with the following specifications:
Certified for compliance with ISO 9001:2015: n° 9115.SENT
Sectors: 34 & 35
Registered office: V.le della Repubblica 48, 20007 Cornaredo (MI)
Purpose: Design, production, support and marketing of gas detection systems. Supply of training courses on gas detection systems.
COMPANY
ATEX
Certifications
In 2001 Sensitron was the first Italian manufacturer of gas detection systems to obtain ATEX certificates for its products, anticipating the ATEX Directive 94/9/CE that became
compulsory from July 1, 2003 (now substituted by ATEX Directive 2014/34/EU). Sensitron also has several IECEx certificates and is continuously updating the certificates to comply to the latest standards.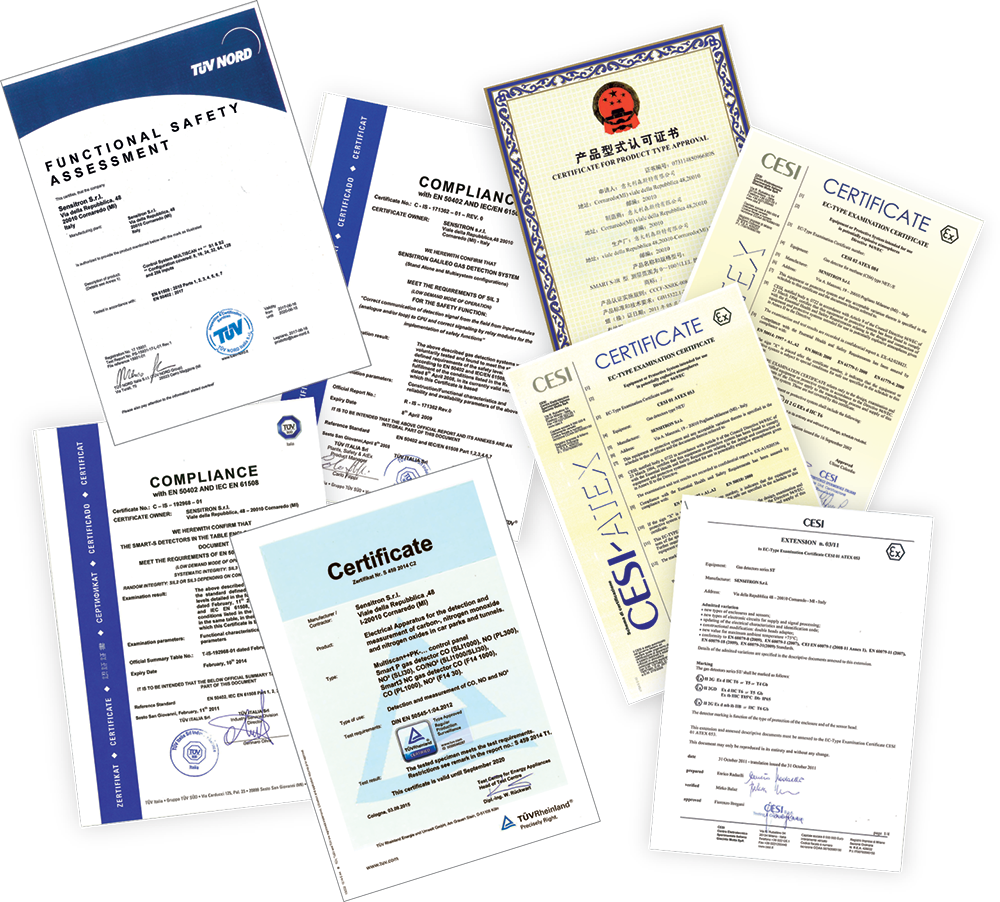 CESI 01 ATEX 086Q Production Quality Assurance Notification
CESI 17 ATEX 003X Explosion proof gas detectors (EN/IEC60079-1)
IECEx CES 17.0011X Explosion proof gas detectors (IEC/IEC60079-1)
CESI 02 ATEX 084 Performance certified detectors (EN60079-29-1)
IMQ 12 ATEX 002X Performance certified control panel MULTISCAN++ (EN60079-29-1)
CESI 16 ATEX 046X Intrinsically safe gas detectors (EN 60079-11)
IECEx CES 17.0010X Intrinsically safe gas detectors (IEC 60079-11)
CESI 14 ATEX 034 Group I Gas detectors for underground and mining.
The offer of fail safe systems was Sensitron's new goal. In 2010, Sensitron launched on the market an even more enhanced gas detection system designed according to the new standard EN50402 and IEC 61508 Parts 1 to 7. The system comprises SIL3 gas control panels series GALILEO MULTISYSTEM and SIL2/3 gas detectors series SMART S ( SIL2/3), both certified at TUV Süd. In 2013 Sensitron obtained the IECEx certificate for both Smart 3G and Smart S detectors.
For years Sensitron has actively designed gas detection systems for car parks achieving a prominent market share. Since the new European Standard for car parks has been approved, we developed a tailor-made SPS SENSITRON PARK SYSTEM, fully compliant to EN50545-1. (TUV Nord certified).
Refrigerant Gas Detection
With great attention to the environment, Sensitron has also developed an enhanced line of products for refrigerant gas detection.
"The management and all the staff
consider certifications and compliance with standards
as a fundamental point to guarantee customers products and
services integrated over time."
EN 378-3
EN 14624
EN 50676
IEC 60335-2-40 Annex LL
ISO 5149-3 
F-Gas Regulation